Solar Panels in Cary, NC – Costs and Recommendations
How Much do Solar Panels Cost in Cary, North Carolina?
The average cost of solar panels in Cary, NC is around $2.25-2.50 per watt, which is lower than the national average of around $3.00 per watt. Therefore, an average 6 kw system is going to run somewhere in the neighborhood $10-11,000. This number, we will see, will become even more manageable once we take into accounts the various rebates, tax credits and other incentives available to those installing a solar system.
What are the benefits of going solar?
According to https://www.energybillcruncher.com/incentives/HI, the state of Hawaii currently has several incentives in place for those who want to add a solar power system to their home. Some of them are:
North Carolina offers net metering- Essentially, this is a system that allows consumers to "sell" back their excess energy produced by their system to the local utility. More on how net metering works later in this article.
North Carolina offers statewide interconnection standards, making it easier and (usually) less expensive to wire solar systems into the grid, and usually increases the accuracy of net metering, something you're definitely going to want once your system gets going.
Solar power rebates: North Carolina has two electric utilities that offer nice rebate programs. Duke Energy Progress offers a rebate of up to $250 per kilowatt- meaning a regular 6 kilowatt system could net you up to $1500 in rebates. For more information on this, see https://dukesolarrebate.com/duke-solar-rebate-faq/. If you go with the Tennessee Valley Authority, on the other hand, you could be eligible for a flat payment of $1,000 once your system has been installed. For more information on this rebate, see https://www.cleanenergyauthority.com/solar-rebates-and-incentives/tennessee/tva-green-power-providers.
Property Tax Exemption: Under North Carolina law, your home's value will not be reassessed for tax purposes due to the addition of solar panels, so your property tax will not go up despite the additional value that solar panels provide.
The Investment Tax Credit (ITC) currently allows 26% of the cost of a solar system to be claimed as a federal tax credit. This only applies to users who BUY, not LEASE. If you lease, the incentives go to the actual owner of the system.
Performance Based Incentives: North Carolina offers performance incentives wherein you can earn solar renewable energy credits based on your system's metered output.
Not to mention your home resale value will more than likely increase drastically with the addition of solar panels. Estimates range anywhere from $12-15,000, basically meaning your solar system's installation cost will increase the value of your home dollar-for-dollar. If you spend $12,000 on a solar system, it will increase your home's value by that much. Couple that with the rebates, tax incentives and the savings you will experience in your energy bill, and essentially your solar system will pay for itself many times over in the long run. 
What are the Effects of Net Metering on a Solar System?
In a sunny environment, an adequately sized solar collection system will produce far more energy than needed during the sunniest parts of the day and year. The extra energy produced is added to the total power output of the grid, and for each kilowatt hour of extra energy produced, you get a credit of 1 you can extract from the grid at no cost when your solar panels cannot collect energy. At the end of your billing cycle (usually monthly), you are only billed for the total amount of kilowatt hours (kWh) you drew from the grid above the amount you exported. This is what is known as "net metering".
Different utility systems have different policies- some will only apply credits to your account while others will actually send you a check for energy you sell back into the system. For example, if your system exported 300 excess kWh of solar power into the system and your home only drew 200 kWh from the grid, some utility systems would give you a credit for 100 kWh of power, while others would actually send you a check.
North Carolina offers full 1-to-1 net metering, meaning North Carolina utilities, by law, must credit you a full kilowatt hour on your bill for each one your system produces and feeds back into the grid. This sounds like a no-brainer until you realize that in many states net metering laws either don't exist or set net metering at lower ratios, like .75 to 1 or even 2 to 1.
When installing a solar power system that meets the electricity needs of your home for an entire year, some months your system will produce more or less electricity than others, depending on weather. When your system generates more electricity than you use, North Carolina utilities will give you credits on your bill towards future months.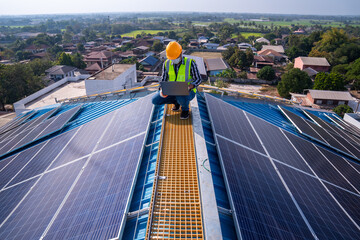 Judging by various internet resources, it looks like the average solar system in North Carolina has an approximate 6 year "pay back" period, meaning it will take about 6 years for the system to pay for itself via rebates, incentives, tax credits and savings on electric bills. Given the average lifetime of commercial solar panels is around 25 years and the upkeep on solar collection systems is typically negligible, you will end up with "free" electricity for approximately 19 years, give or take.
So while the initial investment of $11-12,000 is a lot, as you can see that investment will, on average, give you quite a large return.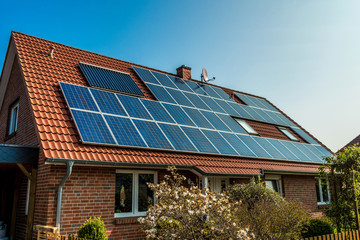 How do I get solar panels installed in Cary, North Carolina?
While Solar companies in Cary proper are in fairly short supply, there are additional companies available in sister-city Raleigh, as well as several more in Greensboro, in easy driving distance, and most solar installation companies would be more than happy to travel that short distance for the business.
First up lets look at Yes Solar Solutions from 202 N. Dixon Ave. Cary, NC 27513. Their website (https://yessolarsolutions.com/) says they have completed over 1,000 installations since 2009, giving them 12 years in the business, and they seem to have consistently high reviews across a number of websites. Founded by Stew and Kathy Miller, their website features a number of pictures and videos of their installations and touts a number of honors and accreditations the company has earned over the years. They also point out their "service area" which claims to be the "broader state of North Carolina". The website also has sections explaining some details about solar rebates and incentives, details about the company's past projects, customer reviews, and a plethora of other information. They are also an A+ rated company by the Better Business Bureau with a five star customer rating and no complaints. According to https://www.solarreviews.com/solar-companies/north-carolina/cary, their average installation is close to $12,000, which falls right into the average amount we can expect for North Carolina. Overall, it's hard to find anything not to like about these guys.
Next we want to look at NC Solar Now, located at 2509 Atlantic Ave, Raleigh, NC 27604-1411. NC Solar Now comes in with 11 5 star customer reviews and an A+ rating from the Better Business bureau, and, indeed, they seem to have good reviews across several platforms just like our last company we examined. Their average cost of installation seems to be slightly higher than the last at about $12,500. Their website states that in 2010 they embraced the idea that "solar is for everyone". It lists their affiliations with a number of clean energy groups and features a number of photos and videos of their installations. They also feature a $500 customer referral program, which claims that you can earn $500 for referring a customer even if you are not a customer yourself (Hey- if this article points you to NC Solar Now, holler at your boy). The only complaint I was able to read on the Better Business Bureau website was actually not anything to do with NC Solar Now's work and more to do with a misunderstanding over the Duke Energy rebate program.
For our third review we're going to make the short trip next door to Raleigh to visit with Southern Energy Management, located at 5908 Triangle Dr, Raleigh, NC 27617 and founded in 2017 by co-founders and owners Bob and Maria Kingery. Their website (https://southern-energy.com/) offers most of the standard information, such as what services they offer, including the Tesla Powerwall (More information about that here https://southern-energy.com/tesla-powerwall/). Overall their website has lots of useful information, maybe too much at times (For example, their "Office Pets" section which features pictures of their 8 dogs, mouse and snake that all, according to the website, either live at SEM 24/7 or have office hours listed). On Facebook they have 12 reviews, 11 of which recommend their service. The one that does not lists no reason. The two complaints listed on the Better Business Bureau site include one customer complaining that SEM did not respond to him in a timely fashion when he inquired about how deep SEM buried the lines in his yard, and another customer complaint that malfunctioning panels were not replaced in a timely fashion. SEM resolved both issues and both complaints were closed, one with SEM issuing a check to the customer as compensation for lost energy production due to malfunctioning panels.
Now let's talk about Blue Raven Solar (website: https://blueravensolar.com/north-carolina/raleigh/). Located at 3200 Wake Forest Rd Ste 206, Raleigh, NC 27609 (although the Better Business Bureau gives their address as 8210 University Executive Park Dr Ste 160 Charlotte, NC 28262). The Better Business Bureau lists them as having been in business for 7 years. Their website touts them as a nationwide solar installer with locations in 18 states, and claims they have over 1,400 employees. What I'm most interested in with Blue Raven is their sheer volume of reviews (and complaints). This of course is to be expected out of a national company with that many locations, but one website (https://www.solarreviews.com/installers/blue-raven-solar-reviews#reviews) lists them with over 1500 reviews (almost 1300 of which are five stars). The Better Business Bureau website gives them a 4.29 out of 5 stars with 479 customer reviews- but also lists a whopping 87 complaints, 38 of those coming in the last 12 months. Once again, this is a national company, so let's look at this cautiously. Just skimming the complaints, I see things like "misrepresented", "system has broke upwards of six times", "equipment sent to wrong address", "company is not upfront with everything", "I've contacted my lawyer", and "The salesman literally sent me personal checks with his wife's name on them". If you want to look at the complaints further for yourself, see https://www.bbb.org/us/ut/orem/profile/solar-installation/blue-raven-solar-llc-1166-90013405/complaints. While these complaints may not be reflective of the quality of service Blue Raven truly offers, there certainly are a lot.
Now let's take a look at another company called Renu Energy Solutions who has several offices in the Carolinas, both north and south, including one in Durham and possibly one in Greensboro. Their website (https://renuenergysolutions.com/) lists an address at 224 Page Rd STE. 106, Durham, NC 27703. Renu's website says the company has completed some 3500 installations, and also lists themselves as having installed 23 megawatts of solar power. They are listed as a 4.75 out of 5 stars on Home Advisors with 16 reviews, a 4.77 out of 5 on https://www.solarreviews.com/solar-companies/north-carolina/greensboro after 155 reviews, a 4.7 on Birdeye with 472 reviews and a 4 out of 5 on Yelp with 11 reviews. So far so good. Their website provides all the usual information, about their services and things they've done in the past. The average cost of an install is listed as around $13,000, so they're going to be just a little more expensive than the average in the area. They have 7 complaints listed on the Better Business Bureau site that cover a variety of topics, everything from equipment improperly installed, failure to service equipment, failure to honor contracts, etc. For more information, see the complaints for yourself at https://www.bbb.org/us/nc/charlotte/profile/solar-energy-design/renu-energy-solutions-llc-0473-290907/complaints.
Summary:
So when I say "North Carolina", the first thing that comes to mind might be "Tar Heels" or "Smoky Mountains", maybe even Ric Flair (WOO!). But what you may not know is that North Carolina is 21st in the United States in terms of "sunny days", and you can expect over 200 "sunny" days a year on average. So while it may not quite stack up with the beaches of California or the deserts of New Mexico, North Carolina is still more than capable of supporting solar energy on a large scale, more than enough to run an average house.
So the real trick with solar in Cary, North Carolina is mainly choosing the right company. There appear to be a number of very good and reputable local companies, though they are not all in the immediate Cary area. There are a couple of companies with a number of complaints against them that you may or may not wish to ignore, but it would be wise to at least look into them before making your decision. You may have to look outside, as far as Greensboro or even Charlotte to find the right company for you, but there are a number of very good solar options in the Cary, North Carolina area.