Solar panels in Las Vegas– costs and recommendations
What is the cost of solar panels in Las Vegas?
Solar panels in Nevada are going to run you right about $2.66 per watt, which puts the cost of a 250 watt solar panel at about $665.
Though that's cost-prohibitive, keep in mind that every tax payer is entitled to claim as much as 26% of the total cost of your system and installation as a credit on your federal income tax return.
Call (844) 518-0958 To Reach our Recommended Solar Panel Installer In Las Vegas!

They will let you know how to apply for the programs that will save you thousands on your install.

What are the benefits of going solar?
According to https://www.energybillcruncher.com/incentives/NV, the state of Nevada currently offers a ton of incentives for adding solar panels to your home. Among those are:
NV Energy's "Renewable Generations Rebate Program"- Right now NV Energy pays up to $0.15 / watt up front to customers who install solar panels to their home.
NV Renewable Portfolio Standards- NV's Renewable Portfolio Standards (RPS) require utilities to increase production of renewable energy by a certain date. Utilities can purchase this energy from customers, and Nevada's standards mandate that fully 25% of all its energy must come from renewable resources, at least 1.5% of which must be solar energy, so it's a good bet they'll continue purchasing energy from customers and pursuing programs to that effect for the foreseeable future.
Nevada's electric rates are the 12th highest in the country, so obviously adding a solar collection system is far more attractive there than it would be in a state with cheaper rates.
Nevada provide "performance based incentives" based on the number of kilowatt hours or BTUs your renewable energy system produces. The electricity produced by your solar system is credited as "Solar Renewable Energy Credits". The value of an SREC depends on the region you're in and the demand for power in your area.
Nevada law protects your right to install a solar power generating system and no other legal document (such as Neighborhood Associations, Zoning ordinances, etc) can prohibit your from installing a solar system. You also have the right to ensure that your panels can always continue to collect sunlight regardless of what additions are built or trees planted. In other words: Nobody can actively or intentionally prevent you from generating solar power in the state of Nevada.
The addition of solar panels can raise the value of your home by as much as $10,000 to $20,000, so the investment almost automatically pays for itself in that way.
How do I get solar panels installed in Las Vegas?
As of this writing, there are around 20 companies actively installing solar energy systems in the Las Vegas area.
The most highly rated company on multiple sites (google, yelp, etc) is Sol Up (http://www.solup.com). According to their website, Sol Up, located at Nevada C-2 #75025, 4305 Dean Martin Drive, Suite 150 Las Vegas, NV 89103, was founded in 2009 by Frank Rieger, a German immigrant who came to Las Vegas because of the potential he saw in the area for solar energy collection and with the intention of making the West Coast of the United States the solar power capital of the world. Offering more than just installation, Sol Up is the only company in the area specializing in solar power that has a showroom for potential clients to come see solar panels and technology up close. Sol Up partners leading companies in the renewable energy field for supplies meaning that when you contract with Sol Up you will get the latest technology and hardware available. Sol Up is a full service company and handle rebates, net metering applications, homeowners association requirements, and Sol Up offers a variety of financing options. Sol Up also takes pains to let the consumer know that they provide free quotes. User reviews for Sol Up appear to be almost completely favorable, with the majority using terms like "excellent" and "professional service". One reviewer also provided this information, that I did not find on any other part of the site: "One great thing that I've also learned, Sol up can transfer Solar to your new house with a small fee of $149 plus Labor fee." The negative reviews that I did see appeared to all be related to customer service issues, which is generally known as the biggest source of complaints in any industry. Another individual is quoted as saying "if you try to sell your home be prepared to pay for your system upfront in order sell your home. They don't explain any of the particulars or details upfront if decide to sell your home." The better business bureau gives Sol-Up a rating of A+ and reports a total of 3 complaints in the last 3 years.
Another company that seems to have a good reputation in the Las Vegas area is Tempo Solar World. Located at 3170 Polaris Ave. Ste; 41. Las Vegas NV 89102, Tempo is a locally owned company founded in 1997 that specializes in personalized services to ensure customers get a system to meet their specific energy needs. Tempo's website claims to have installed over 2,500 solar systems in homes. Tempo Solar World not only installs but also maintains their solar systems as well as providing a free monitoring service to check your home energy usage, as well as providing a free app so you can monitor your own home energy usage from your smart phone or tablet. In the event that your system shows anything abnormal, Tempo's technicians will come out to check your system and replace malfunctioning panels if necessary. Tempo Solar World is accredited with the Better Business Bureau and has an A+ rating with them and zero complaints filed.
Sun Solar Electric, 2708 Highland Drive Las Vegas, Nevada 89109, comes with good reviews on both Facebook and Yelp. The company, founded in 2007, offers many of the same services as Sol Up and Tempo Solar World, such as long-term monitoring, service calls, etc. Their website also says they are "experts" in grant and rebate applications and that they will help you complete all the relevant paperwork. They also say they are more than happy to help with completely "off grid" solutions, so if you are in need of a solar power system in a remote location or you just want to get disconnected, they may be the ones to call. They provide a comprehensive list of the services they offer in addition to simple installation, including corrective maintenance, preventative maintenance, cleaning of solar panels, inverter maintenance, lighting replacements, rewiring, critter guard and fixture replacement. Sun Solar only had 4 reviews on Yelp as of this writing, 3 of which were positive. The negative review was not in any wise related to the company's work or service, but rather seemed to be a complaint that Sun Solar solicited them at their home and was not wearing a face mask at the time when they did it. Sun Solar Electric is not accredited with the Better Business Bureau and has a B- rating with them. They have one complaint filed against them regarding a contract the customer felt was misleading or hard to understand. This complaint received no response from Sun Solar.
What are the Effects of Net Metering on a Solar System?
Net metering is the process of measuring both the output of your solar power system and how much unused electricity it is feeding back into the grid. Customers who feed more energy into the grid than they draw out will often get credits toward future electric bills or even a cash payment for the amount of energy they generated.
In 2017 Nevada lawmakers passed new legislation establishing a tiered system for net metering rates. In this system, you get higher rates for the surplus energy your exports depending on how early you apply. Net metering rates in Nevada break down like this:

| | | | |
| --- | --- | --- | --- |
| Tier | System Capacity | Credit rate | Credit Period |
| Tier 1 | 80MW solar capacity | 95% retail | 20 years |
| Tier 2 | 80MW solar capacity | 88% retail | 20 years |
| Tier 3 | 80MW solar capacity | 81% retail | 20 years |
| Tier 4 | All applied capacity after tier 3 expires | 75% retail | 20 years |
NV Energy will also be reducing the amount of credit available to customers with solar systems as the total capacity of solar systems increases in their territory. As of January '21, applications were still being accepted for tier 4, though tiers 1-3 had already filled up. So even though your solar energy would only be valued at 75% of regular retail rate, you could still benefit tremendously from excess solar energy produced by your system, and this rate would be locked in for 20 years. As previously mentioned, Nevada currently does not offer cash back incentives, the credit rate offered offered by Nevada currently stands at $0.07735 / kWh in the South and $0.06436 / kWh. For each 1 kilowatt of solar panels installed, you can expect about 1,570 kWh / year. Given these rates combined with above tax credits, a solar system in Las Vegas generally pays for itself within 10 years.
With strong net metering laws, it is estimated you can "save" anywhere from $15,000 to $40,000 over the lifetime of your solar panels through electricity fed back into the system.
How much solar power do I need to power my home?
There are a lot of variables in deciding how much solar power you need to power your home, but the simplest way to figure it out is to look at your past electric bills and give yourself enough solar panels to cover your highest 6 months. Your solar company should be able to help you figure this out, but in general you can expect to need somewhere between 20 and 28 panels to be completely self sufficient.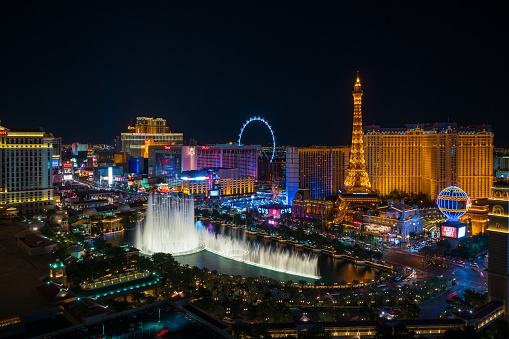 General Reviews:
Other users in the Las Vegas area had other tidbits of information to offer. One user from reddit says:
"Overall my experience the past 4 years has been great. Oftentimes I forget the panels are up there. Once in a while, I rinse them off with the hose after a dust storm. They have never broken down or caused an interruption in my power."
The same user says:
"NV Energy rarely has to charge me an actual power bill because my solar panels take care of 98.5% of my home's usage."
Another user says:
"NV energy will not allow you to install more than what you use in a year but if you install say 90% of your annual usage and you replace your AC unit and maybe something else to drop your usage then you would be banking. But like I said you will not get paid for that excess energy."
This user warns about NV energy taking an excessive amount of time to approve everything (which seems to be a running theme in several reviews):
"One thing to watch, if you pull the trigger, is stay on top of all the paperwork, and make sure the timelines are met for paperwork submissions. NV energy has been known to drag their feet in activating your system, once it has been installed."
(Source: https://www.reddit.com/r/vegas/comments/972or5/any_homeowners_here_that_can_offer_advice_on/)
Summary:
As energy prices across the country continue to skyrocket with no immediate relief in sight, many people have turned to alternative or green energy sources that are not only practical but also beneficial to our planet. And there are few places on Earth better suited to solar energy collection than Las Vegas. Solar panels are activated by sunlight. When the panel is activated, the solar cells within produce electrical currents, which are converted into electrical energy. This electrical energy is then used to power your home. Favorable metering laws plus a federal tax credit that can reduce your costs by up to 26% combined with the year-round sunny weather make Las Vegas an ideal place for a solar system.
Overall, the majority of reviews I could find from customers who installed solar panels were positive ones. Very few seemed to indicate they regretted the decision to install a solar power system, and the majority of dissatisfied reviewers seemed unhappy with the service provided by individual companies, which is to be expected in any service industry.
For those still unsure, NV Energy's website offers a fairly detailed explanation of the process for those considering installation of a solar system in Las Vegas at https://www.nvenergy.com/cleanenergy/solar. It not only explains the entire process and benefits NV Energy offers, along with lists of approved equipment and , but also offers helpful links such as "20 Questions to Ask your Contractor" and "Homebuilder's Guide to Going Solar". Overall there is a wealth of information available on their website coming from a fairly neutral source, certainly one that isn't trying to sell you anything.
Solar panels are a sound financial investment in our modern world. Solar panels and energy production has only become more efficient and cost effective over the years, to the point where many residents in a place like Las Vegas that averages over 300 sunny days per year could potentially not only recoup their investment but go on to enjoy 15 or more years of essentially "free" energy. This combined with the fact that solar energy is completely environmentally friendly should lead any homeowner to the conclusion that "going solar" is a wise decision.